Posts for: April, 2013
By Frankfort Avenue Family Dental
April 20, 2013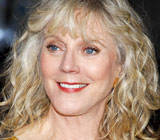 After her husband, producer Bruce Paltrow, succumbed to oral cancer in 2002, actress Blythe Danner made it her mission to help save other families from the heartache she and her children (Jake and Gwyneth Paltrow) suffered with his loss. Now active with the Oral Cancer Foundation, Blythe uses her fame to bring awareness to the disease, which she says she and her family knew very little about before Bruce received his diagnosis.
In an interview with People magazine, Blythe said she believes her husband's cancer could have been detected earlier if the family had been alert to the symptoms.
"For months I had noticed Bruce's voice was hoarse," she said. "I started asking him to see a doctor. But he kept saying, 'No, no, no, I'm fine.' "
When a lump became visible in his neck, he did go to the doctor and found he had a tumor in his throat. The cancer eventually spread to his lymph nodes. Compounding Blythe's sadness is the feeling that she might have been able to do something to prevent her husband's death.
"I feel tremendously guilty," she told the magazine, noting that she wishes she had simply insisted her husband get himself checked out. "Education and early detection are so important," she said of her campaign to raise awareness. "That's why I'm doing this."
Though Bruce Paltrow was a smoker, it's important to note that young, non-smokers comprise the fastest-growing segment of the population being diagnosed with the disease. That's because a sexually transmitted virus known as HPV16 is now a major cause of oral cancer.
Oral cancer screenings are yet another good reason to make regular semi-annual visits to the dentist. We have the training to notice oral abnormalities, and to monitor and/or biopsy any suspicious lesions. At your oral cancer screening, we will feel your neck for lumps and inspect your lips and all inside surfaces of the mouth, including the back of your throat.
Of course, if you or a loved one experience persistent hoarseness, white or red patches or other changes in your mouth or tongue that don't go away in a few weeks, please don't hesitate to come in and see us.
If you have any concerns about oral cancer, please contact us or schedule an appointment for a consultation. You can learn more about the disease in the Dear Doctor magazine article "Oral Cancer."
By Frankfort Avenue Family Dental
April 05, 2013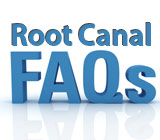 If you think you'd rather wrestle a pack of porcupines than go to the dentist for a root canal treatment — then maybe it's time to think again! This common procedure has been the butt of jokes for a long time. Let's set the record straight by answering some common questions about the much-maligned procedure.
Q: What is a root canal?
A: Coursing through the central part of each root is a hollow space or canal, which contains the pulp tissue. The pulp tissue contains the nerves which respond to temperature changes transmitted through the tooth. When the temperatures are extreme the nerves signal sensitivity and pain. It's also shorthand for the dental procedure that is performed when the pulp tissue that fills these canals develops a disease.
Q: Why do I need to get a root canal?
A: Because an infection or inflammation has developed deep inside one or more of your teeth. When the living pulp tissue — which contains nerves and blood vessels — becomes inflamed or infected, it can cause intense pain. It also releases bacterial toxins, which can lead to further problems.
Q: What happens if I don't get a root canal?
A: Your acute pain may temporarily go away, but the infection won't. It will eventually travel through the tooth's roots into the surrounding tissues. If left untreated, it may result in an abscess or even a systemic infection. That's why you need to take care of it now.
Q: Will it be painful?
A: Generally, a root canal procedure is no more painful than getting a filling. In fact, it starts the same way: An anesthetic is given to numb the tooth and the surrounding area. Then a small hole is made through the tooth's chewing surface and down into the canal. Diseased pulp tissue is removed through the hole via a set of tiny instruments. Finally, the root canal is cleaned, disinfected, filled with inert biocompatible material and sealed up.
Q: What happens after that?
A: Your tooth may be sensitive for a few days after the treatment, but the acute pain will be gone. Over-the-counter pain relievers generally work well for pain relief at this point. To restore your tooth to its fully-functioning state, a crown or other restoration is usually needed after root canal treatment. Properly done, the restored tooth can last as long as any of your natural teeth.
Q: Is there an alternative?
A: Yes. You can relieve the pain by having the tooth removed. But you don't want to go there. Tooth loss can lead to unwanted side effects, like migration of teeth, bone loss and eventually the inability to chew properly. It's far better to save your natural teeth when you can.
If you would like more information about root canals, please contact us to schedule an appointment for a consultation. You can also learn more about this topic by reading the Dear Doctor magazine articles "Common Concerns About Root Canal Treatment" and "Signs and Symptoms of a Future Root Canal."