Posts for: January, 2014
By Frankfort Avenue Family Dental
January 23, 2014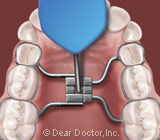 Have you heard of palatal expanders? If your child needs orthodontic work, then you ought to hear about them! These small appliances offer plenty of advantages to kids whose smiles, due to a variety of problems, may need some help. Here are five things you should know:
1. Palatal expanders are small orthodontic appliances that fit inside the mouth.
Custom-fabricated for each child, these devices are placed near the roof of the mouth, in between the two rows of upper teeth. They consist of two small metal brackets with a tensioning system that can be adjusted by a tiny key. Not everyone needs one, but they can really benefit kids with certain orthodontic conditions.
2. Palatal expanders take advantage of a child's natural growth processes.
That's part of the reason they work so well. Since the bones of a child's upper jaw don't fuse together until sometime after puberty, it's relatively easy to move them apart before that time. The palatal expander applies gentle pressure to gradually move the left and right halves of the upper jaw apart, over a period of a few months. Then it's left on several weeks longer, allowing new bone to fill in and stabilize the expansion.
3. Palatal expanders are helpful in treating a variety of orthodontic problems.
Crowding — that is, not having enough space in the jaw to accommodate all of the teeth — is one major issue. A related issue is impacted teeth: These are teeth that are blocked from coming in (erupting) by other teeth or jaw structures. A third issue is crossbite: That's when the back top teeth come down to bite inside, rather than outside, the bottom teeth. Gaining additional space in the upper jaw can help relieve all of these problems.
4. Palatal expanders can eliminate the need for tooth extraction.
Once upon a time, extraction was the only way to solve these problems. However it's an invasive (and potentially complex) procedure. A palatal expander can often provide the same — or better — results, via a noninvasive method.
5. Palatal expanders typically shorten overall orthodontic treatment time.
They're generally worn for a total of three to six months, but they can considerably shorten a child's overall orthodontic treatment time. Plus, they're invisible — a big plus to image-conscious teens. Could they benefit your child?
If you have questions about palatal expanders, please contact us or schedule an appointment for a consultation. You can learn more in the Dear Doctor magazine articles "Palatal Expanders" and "The Magic of Orthodontics."
By Frankfort Avenue Family Dental
January 08, 2014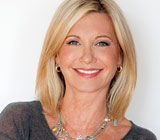 Singer Olivia Newton-John's daughter Chloe is now a lovely, grown woman, but Olivia recently recounted to Dear Doctor magazine a rather creative method she found to sooth Chloe's teething troubles many years ago.
"When Chloe was a baby and teething I remember using a frozen bagel for her sore gums," Olivia said. "She loved it!"
Cold is often very soothing to a teething child's gums. In fact, the American Academy of Pediatric Dentistry (AAPD) recommends using a clean, chilled, rubber teething ring, or cold wet washcloth. Chilled pacifiers can also be helpful. Be sure not to freeze teething rings or pacifiers as ice can actually burn sensitive mouth tissues.
Older teethers can sometimes find relieve from cold foods such as popsicles (or bagels!) but make sure your child eats these sugar-containing foods only at mealtimes so as not to promote tooth decay.
If your baby has not yet begun the teething (or tooth-eruption) process, you can expect it to begin usually between six and nine months. It may, however, start as early as three months or as late as twelve months.
Teething symptoms vary among children, as does the length of time it takes for a tooth to make its appearance. But many parents notice the following signs:
Irritability
Biting and gnawing
Gum swelling
Chin (facial) rash
Disrupted sleeping patterns
Ear rubbing
Drooling
Decreased appetite
These symptoms are usually most bothersome during the week that the tooth is breaking (erupting) through the gums, starting about four days before and lasting about three days after the tooth appears.
Occasionally, teething discomfort can be considerable. If that is the case with your baby, you can give her or him acetaminophen or ibuprofen in the appropriate dose (check with your pharmacist if you're not sure what that is). The medicine should be swallowed — not massaged into the gums, as this can also burn. Numbing agents should not be used for children under 2, except under the advice and supervision of a healthcare professional.
If you would like to learn more about teething or any other child-related oral health issue, please contact us or schedule an appointment for a consultation. If you would like to read Dear Doctor's entire interview with Olivia Newton-John, please see "Olivia Newton-John." Dear Doctor also has more on "Teething Troubles."