Posts for: March, 2018
By Frankfort Avenue Family Dental
March 28, 2018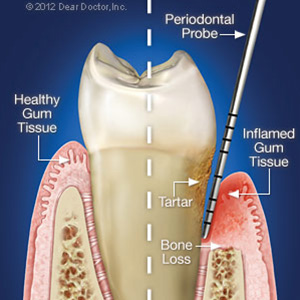 If you're over age 30 there's a fifty percent chance you have periodontal (gum) disease—and you may not even know it. Without treatment this often "silent" bacterial infection could cause you to lose gum coverage, supporting bone volume or eventually your teeth.
That's not to say there can't be noticeable symptoms like swollen, red, bleeding or painful gums. But the surest way to know if you have gum disease, as well as how advanced it is, is to have us examine your gums with manual probing below the gum line.
Using a long metal device called a periodontal probe, we can detect if you've developed periodontal pockets. These are gaps created when the diseased gum's attachment to teeth has weakened and begun to pull away. The increased void may become inflamed (swollen) and filled with infection.
During an exam we insert the probe, which has markings indicating depths in millimeters, into the naturally occurring space between tooth and gums called the sulcus. Normally, the sulcus extends only about 1-3 mm deep, so being able to probe deeper is a sign of a periodontal pocket. How deep we can probe can also tell us about the extent of the infection: if we can probe to 5 mm, you may have early to mild gum disease; 5-7 mm indicates moderate gum disease; and anything deeper is a sign of advanced disease.
Knowing periodontal pocket depth helps guide our treatment strategy. Our main goal is to remove bacterial plaque, a thin film of food particles that collects on teeth and is the main cause and continuing fuel for the infection. In mild to moderate cases this may only require the use of hand instruments called scalers to manually remove plaque from tooth surfaces.
If, however, our periodontal probing indicates deeper, advanced gum disease, we may need to include surgical procedures to access these infected areas through the gum tissue. By knowing the depth and extent of any periodontal pockets, we can determine whether or not to use these more invasive techniques.
Like many other health conditions, discovering gum disease early could help you avoid these more advanced procedures and limit the damage caused by the infection. Besides daily brushing and flossing to remove plaque and regular dental checkups, keep watch for signs of swollen or bleeding gums and contact us for an appointment as soon as possible. And be aware that if you smoke, your gums will not likely bleed or swell—that could make diagnosis more difficult.
If you would like more information on treating gum disease, please contact us or schedule an appointment for a consultation. You can also learn more about this topic by reading the Dear Doctor article "Understanding Periodontal Pockets."
By Frankfort Avenue Family Dental
March 13, 2018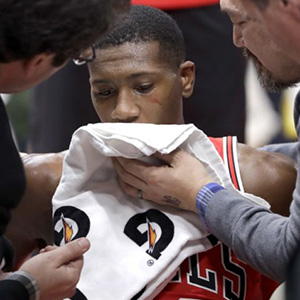 For lots of sports fans, March is the month to get caught up in basketball "madness." But many people forget that basketball—whether it's played on a school court or a big-city arena—can be just as dangerous for your teeth as some "full-contact" sports. Just ask Chicago Bulls point guard Kris Dunn. In the last three minutes of the January 17 NBA game between the Bulls and the Golden State Warriors, Dunn stole the ball and went in for the dunk. But the momentum from his fast break left him tumbling head-over-heels, and his face hit the floor.
The game stopped as Dunn was evaluated by medical staff; they found he had dislocated his two front teeth. The next day, the Bulls announced that his teeth had been stabilized and splinted—but Dunn would be out indefinitely because of a concussion.
Teeth that are loosened or displaced are known in dental terminology as luxated. These are fairly common dental injuries in both children and adults—but surprisingly, they don't always produce painful symptoms. Treating luxated teeth generally involves repositioning them and then splinting them in place for stability. Depending on the severity of the injury, the outlook for splinted teeth can be quite favorable. However, it may involve several treatments over a period of time—for example, a root canal if the tooth's inner pulp has been damaged, and possibly additional restorative or cosmetic work.
If the injured teeth can't be saved, they can usually be replaced by dental implants or a bridge. Bridges rely on adjacent teeth (also called abutment teeth) for their support. These teeth must be prepared (reduced in size) to accommodate the dental crowns that will hold the bridge in place, as well as the ones that will replace the missing tooth or teeth. Dental implants, today's gold standard of tooth replacement, are supported by root-like inserts made of titanium that are set directly into the jawbone. These dental implants support lifelike crowns that look and feel like natural teeth, and can last for years with routine care.
Better still, many dental injuries can be prevented by wearing a protective mouthguard. We can provide a custom-fabricated mouthguard, made from an exact model of your bite, which offers the maximum in comfort and protection. This is a vital piece of safety equipment that should be part of every sports enthusiast's gear.
With good dental care, it's a sure bet that Kris Dunn will be smiling when he returns to the court. We wish him a speedy recovery.
If you have questions about treating injured teeth or obtaining a custom mouthguard, please contact our office or schedule a consultation. You can read more in the Dear Doctor magazine articles "Trauma and Nerve Damage to Teeth" and "Athletic Mouthguards."