Posts for tag: pregnancy
By Frankfort Avenue Family Dental
August 29, 2014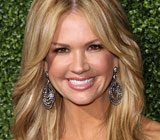 When her daughter Ashby was born in 2007, Nancy O'Dell was overjoyed; but she found the experience of pregnancy to be anxiety-provoking. O'Dell is host of the popular entertainment news show Entertainment Tonight.
After her baby was born she compiled her memories and thoughts into a book for first-time pregnant mothers. The book, "Full of Life: Mom to Mom Tips I Wish Someone Had Told Me When I Was Pregnant," covers a wide range of topics — including oral health during pregnancy.
"While my dental health has always been relatively normal, pregnancy did cause me some concern about my teeth and gums. With my dentist's advice and treatment, the few problems I had were minimized," O'Dell told Dear Doctor magazine. An example of her experience is a craving for milk that started at about the time the baby's teeth began to form. She felt that her body was telling her to consume more calcium.
As often happens with pregnant mothers, she developed sensitive gums and was diagnosed with "pregnancy gingivitis," the result of hormonal changes that increase blood flow to the gums.
"I love to smile," said O'Dell, "and smiles are so important to set people at ease, like when you walk into a room of people you don't know. When you genuinely smile you're able to dissolve that natural wall that exists between strangers."
Contact us today to schedule an appointment to discuss your questions about dental health during pregnancy. You can also learn more by reading the Dear Doctor magazine article "Nancy O'Dell."
By Frankfort Avenue Family Dental
June 19, 2013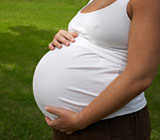 During pregnancy, a mother has many health concerns for both her baby and herself. Though it may not seem as important, dental health and development should be on that list of concerns, for both you and your baby. In fact, your baby's tooth development is already well underway just a few weeks after conception. Pregnancy can also present challenges to your own dental health that definitely deserves your attention and care.
Taking care of your own dietary needs and dental health is also the best thing you can do for your baby. The baby growing within you needs calcium, phosphorus, vitamins and other minerals for the healthy development of teeth and bones. That can only come from you eating a balanced diet rich in these nutrients.
During pregnancy, you are also more susceptible to gingivitis (inflammation of the gums) or other gum diseases because of the normal increase in the level of the hormone progesterone. In fact, some studies seem to indicate that severe gum disease might even raise the risk for premature birth and a low birth weight. It's important then to practice good dental hygiene during your pregnancy: brushing your teeth at least twice a day with an American Dental Association (ADA) approved fluoridated toothpaste, flossing and using an ADA approved mouth rinse that deters the buildup of plaque and the occurrence of gingivitis. Our office is also happy to provide you instruction on proper brushing and flossing technique to help you gain the most benefit from your daily hygiene.
By paying close attention to your own dental health and diet, you are actually doing the very best you can to provide your baby a solid foundation for a lifetime of good oral health.
If you would like more information on protecting your and your baby's oral health, please contact us or schedule an appointment for a consultation. You can also learn more about this topic by reading the Dear Doctor magazine article "Expectant Mothers: Dental facts you need to know."